MARIAE FQ102 SHORTS FAJA WITH BRA
Size chart
SIZE CHART
Fajas/shapewear sizes fall differently than our standard clothing sizes. Therefore, it is very important to measure your measurements so that you order a size that will fit properly.
| | | |
| --- | --- | --- |
| Sizes | Waist (CM) | Hips (CM) |
| XS | 65-69 | 90-94 |
| S | 70-74 | 95-99 |
| M | 75-79 | 100-104 |
| L | 80-84 | 105-109 |
| XL | 85-89 | 110-114 |
| 2XL | 90-95 | 115-119 |
| 3XL | 95-100 | 120- 124 |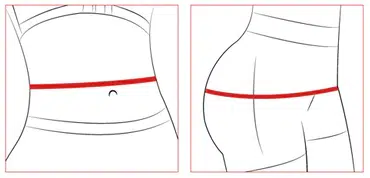 Waist measurement:
The waist is the narrowest part of your upper body, also known as your waist and is located slightly above your navel.
Starting from the back, pull the measuring tape forward around the waist and around the body.
Make sure the measuring tape is at the same height at the back and front of your body
Hip size measurement:
Hip size is measured over widest/fullest part of hips and buttocks.
Keep feet and legs well together.
Bring the measuring tape from the back across the fullest part of the buttocks to the front, across the fullest part of the hips, horizontally.
Make sure the measuring tape is at the same height at the back and front of your body.
If you are unsure between two sizes, we recommend choosing the larger size.
For help with size advice, please feel free to contact us. We are happy to help!
Description
Discover the versatile MariaE FQ102 Faja, ideal for daily, postoperative or postpartum wear.
This Faja provides just the right compression for the body to wear on a daily basis, provides support after surgery and helps promote a comfortable recovery postpartum.
Short length.
Cool-touch nylon lining which gives a refreshing feeling to the skin.
Front closure of 4 rows of hooks and eyelets for compression adjustment.
Dual front reinforcement for optimal compression and support.
Bra with customizable front closure.
High-cut back for extra support.
Perineale opening voor toiletgemak.
Enriched with Vitafit complex, keeping the skin hydrated while wearing.
Medium/high Compression.
Because Shapewear and post-operative Faja sizes fall differently and smaller than our standard clothing sizes, it is important to measure waist and hip circumference and compare them to the sizes listed on MariaE's size chart to choose the right size. For size charts and instructions on how to measure Click here
Certified by INVIMA.